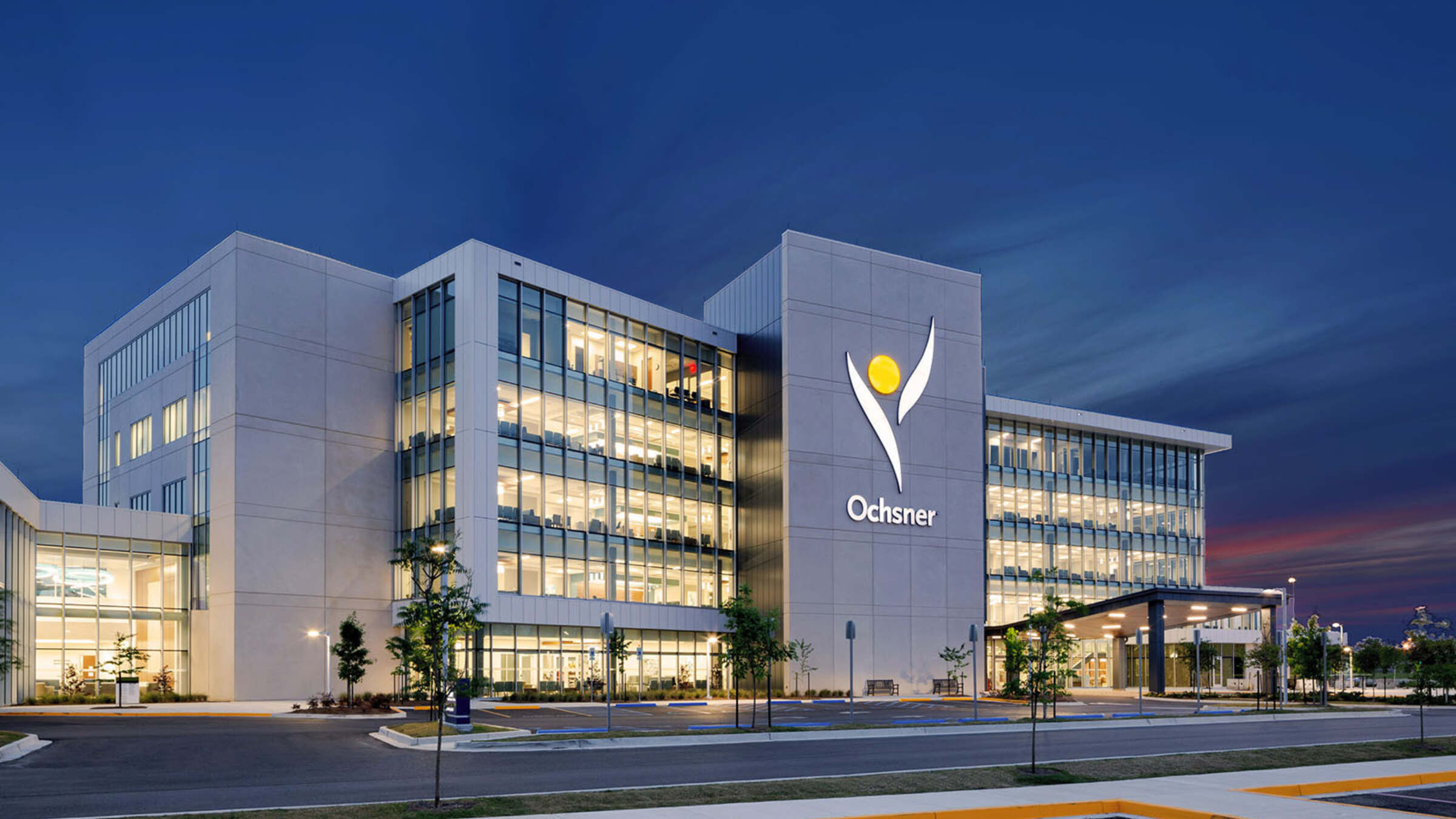 Ochsner Medical Complex
Ochsner The Grove accomplished the client's multi-pronged mission of offering a holistic, coordinated healthcare experience - allowing patients to access multiple specialties in a single visit - within a 50-year building that serves as a beacon along Louisiana's I-10 corridor.
The 25-acre property is anchored by a 155,000-square-foot Medical Office Building that houses more than 85 providers supporting primary care, urgent care and multi-specialty clinics. The building also offers X-ray, MRI, and CT scan capabilities as well as laboratories, a pharmacy and retail food services.
Attached to the MOB is a 30,000-square-foot, 10-bed micro-hospital – a smaller inpatient unit offering robust services in a more intimate healthcare setting. Also adjacent to the MOB is a Surgical Center that consists of four state-of-the art operating rooms, two gastrointestinal procedure suites and two pain management procedure rooms as well as the ability to perform general; ear, nose and throat; orthopedic; gynecology; and urology surgeries. The new facility increases specialty care at this location to include thoracic surgery, neurosurgery, pediatric subspecialties and other surgical specialties.
To adhere to the desired 24-month schedule, the project was designed for rapid deployment and installation using curtainwalls and massive precast concrete wall panels. HVAC and plumbing systems were fabricated and pre-stacked off-site, then lifted simultaneously into place on-site. The innovative "pipe tree" approach allowed for expedited installation of multiple stories of piping and systems in just hours, keeping the project within budget and schedule. Exit stairs and mechanical, electrical, elevator and IT systems were located thoughtfully along the building's perimeter to further facilitate expansion.
The facility balances cutting-edge technology with interior and exterior spaces that create a uniquely low-stress patient and staff experience. The natural light-filled space features soft, organic textures and materials that continue throughout the co-located clinical, surgical, laboratory, pharmacy and dining spaces.
Project Size: 253,539 square feet
Location: Baton Rouge, LA
Completed: 2019
Thinking Outside The Box
The capacity to deliver comprehensive, responsive and tailored patient care is a direct result of the campus' intentional, future-looking design. In this out-of-the-box structure, patients can easily and efficiently connect with and receive care from multiple providers and specialists within a single visit, removing a significant source of frustration and anxiety from the healthcare experience. Upon entering, patients and guests have the option to check in at easy-to-locate reception desks or the semi-private digital kiosks. The adjacent O-Bar offers medical monitoring devices and iPads to help patients test a fleet of company-approved health and wellness apps.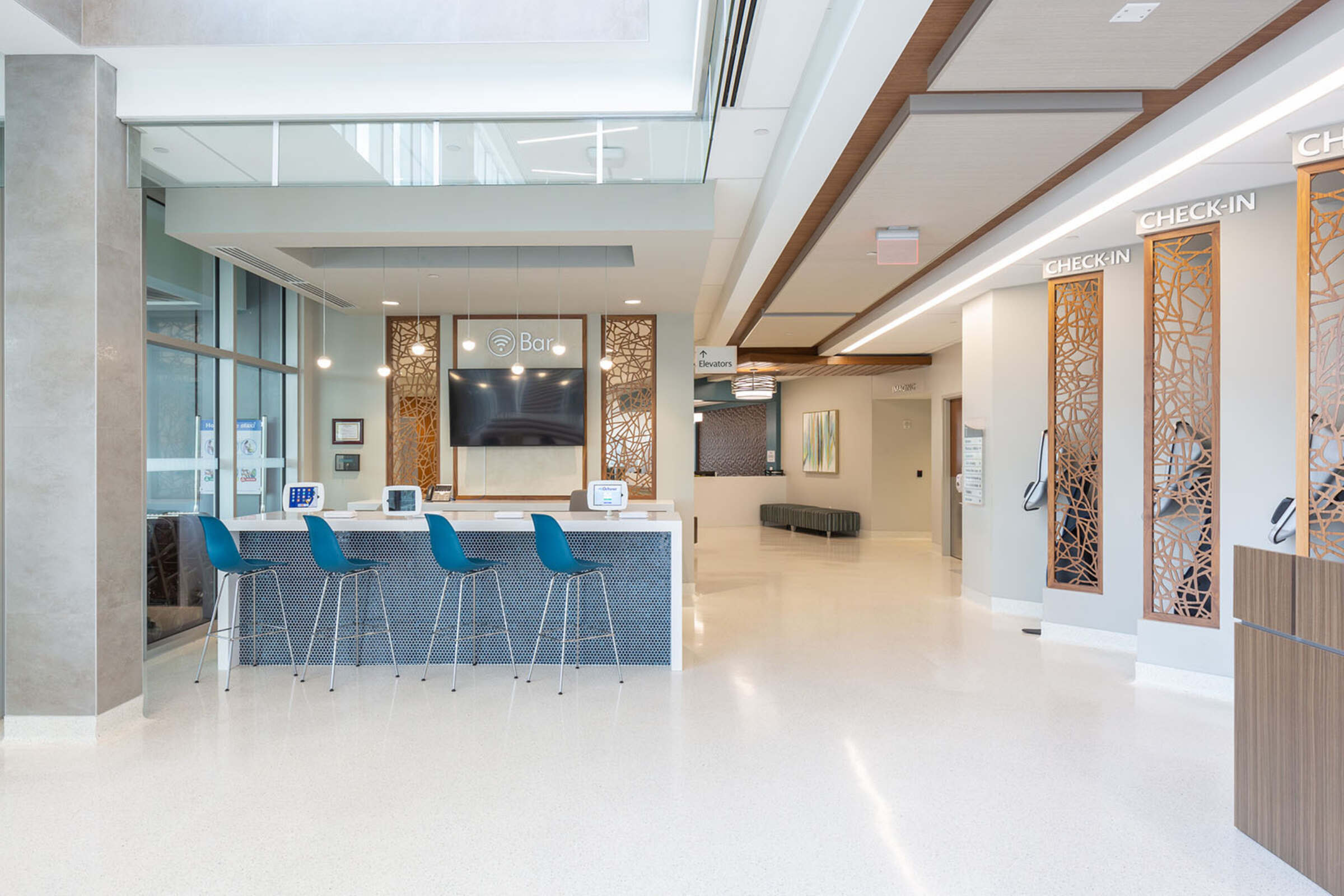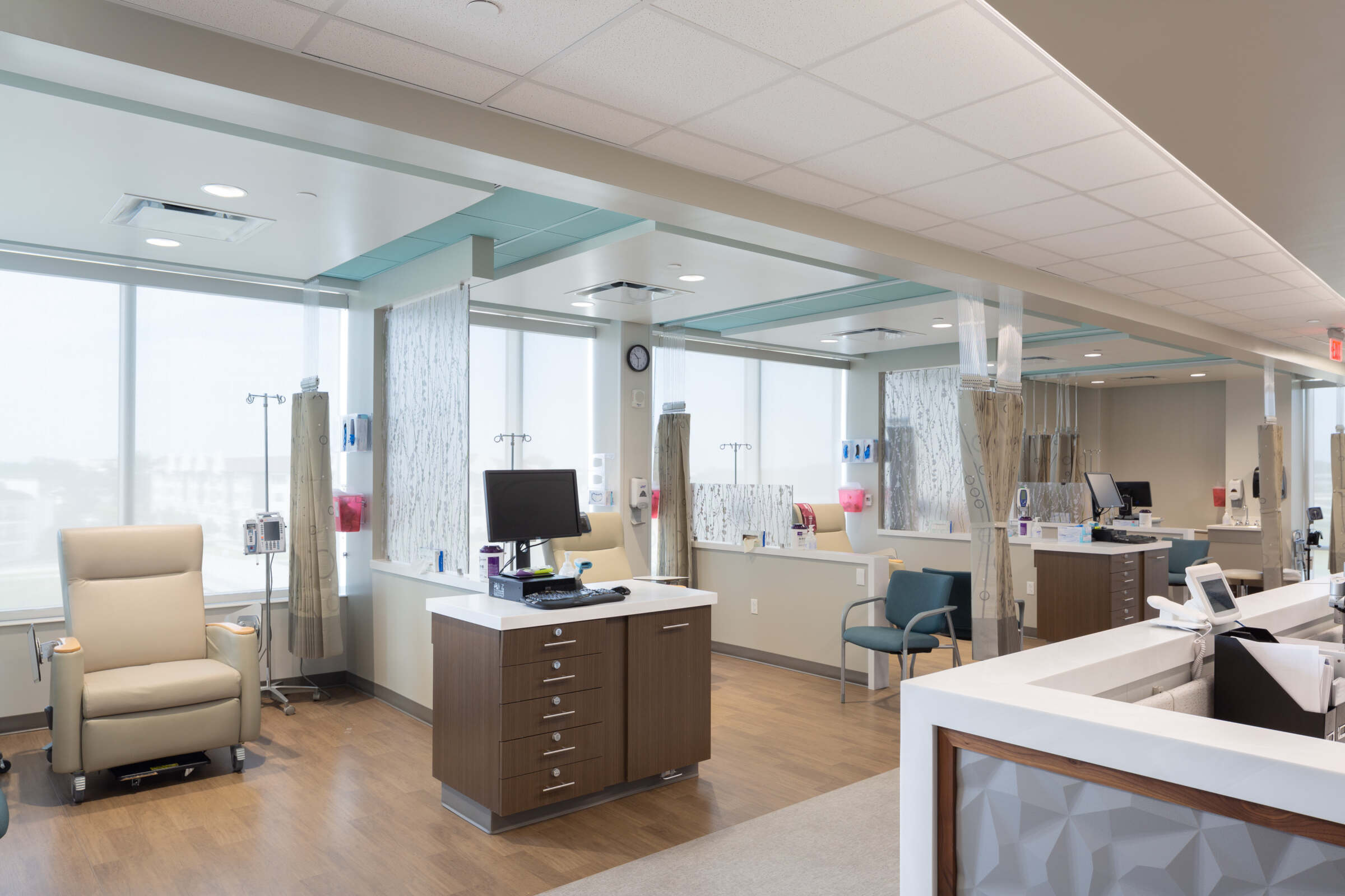 Cutting Edge Interior
The current and long-term flexibility of the clinical spaces is accomplished through a series of pods. The core of each pod includes a nurses' station, support spaces and provider work areas as well as restrooms. Each pod core is surrounded by exam rooms, treatment rooms and clinic access from the linear lobby. This arrangement will allow clinics to grow and expand seamlessly into adjacent pods without the need to renovate the perimeter patient areas. The close physical relationship between the nurses' stations and provider work areas also facilitates a team approach to patient care.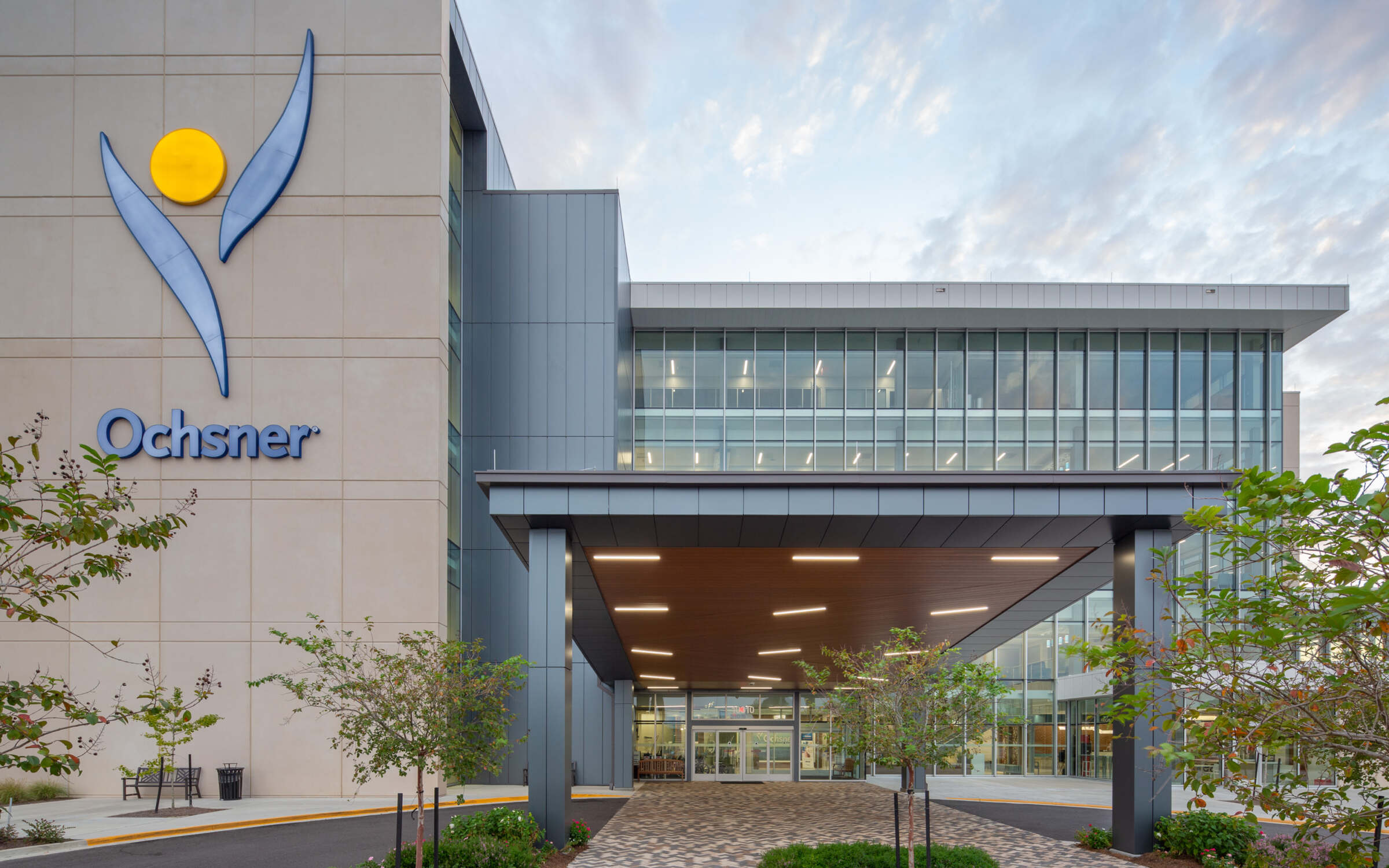 Industry Leading Technology

Expansive, adaptive and technology-ready operating rooms can support multiple types of surgeries and procedures. Integrated video monitoring systems enhance the function of the operating rooms and allow monitoring throughout the healthcare system.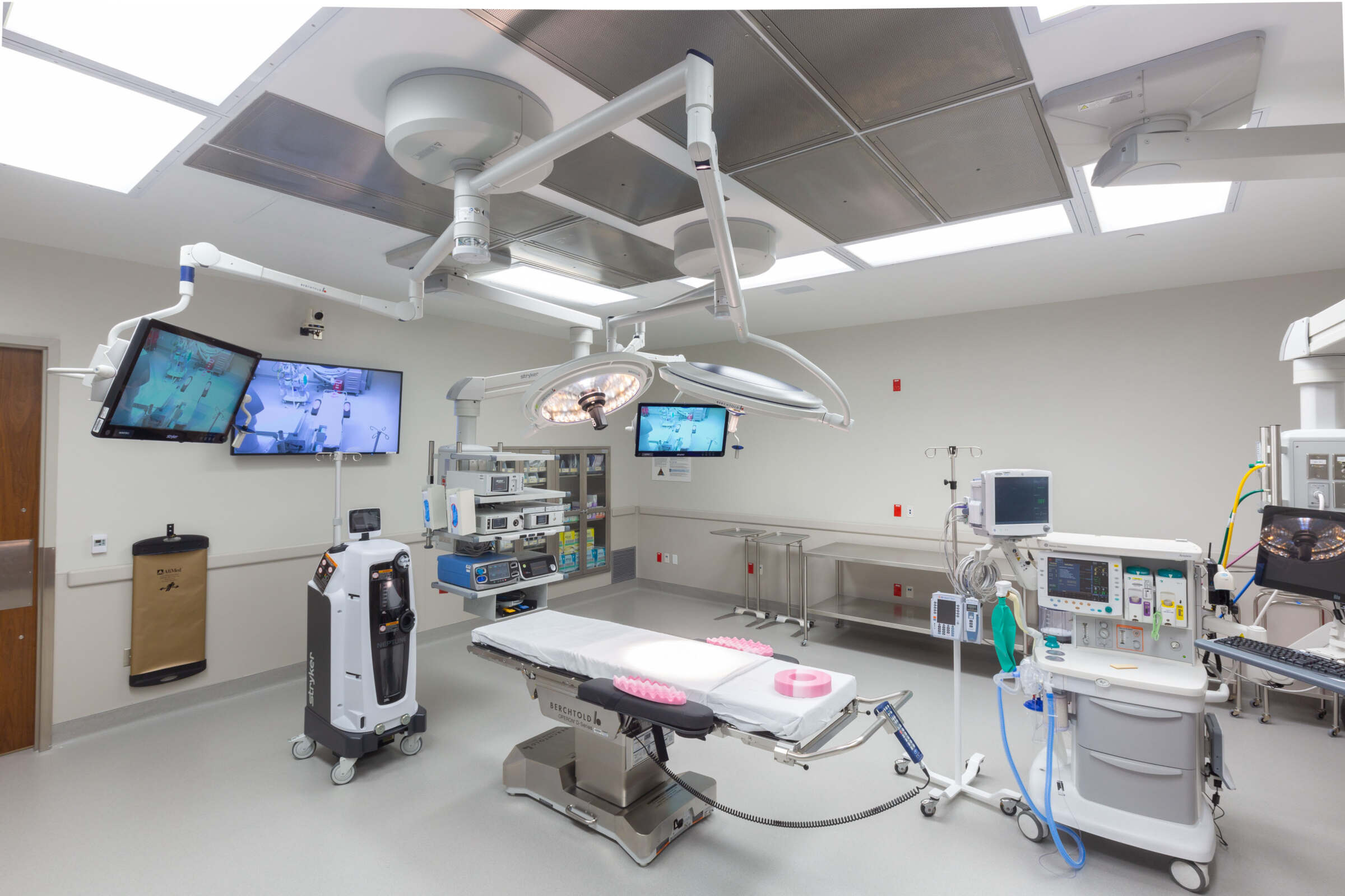 Project Awards

Rose Award of Excellence, AIA Baton Rouge - 2020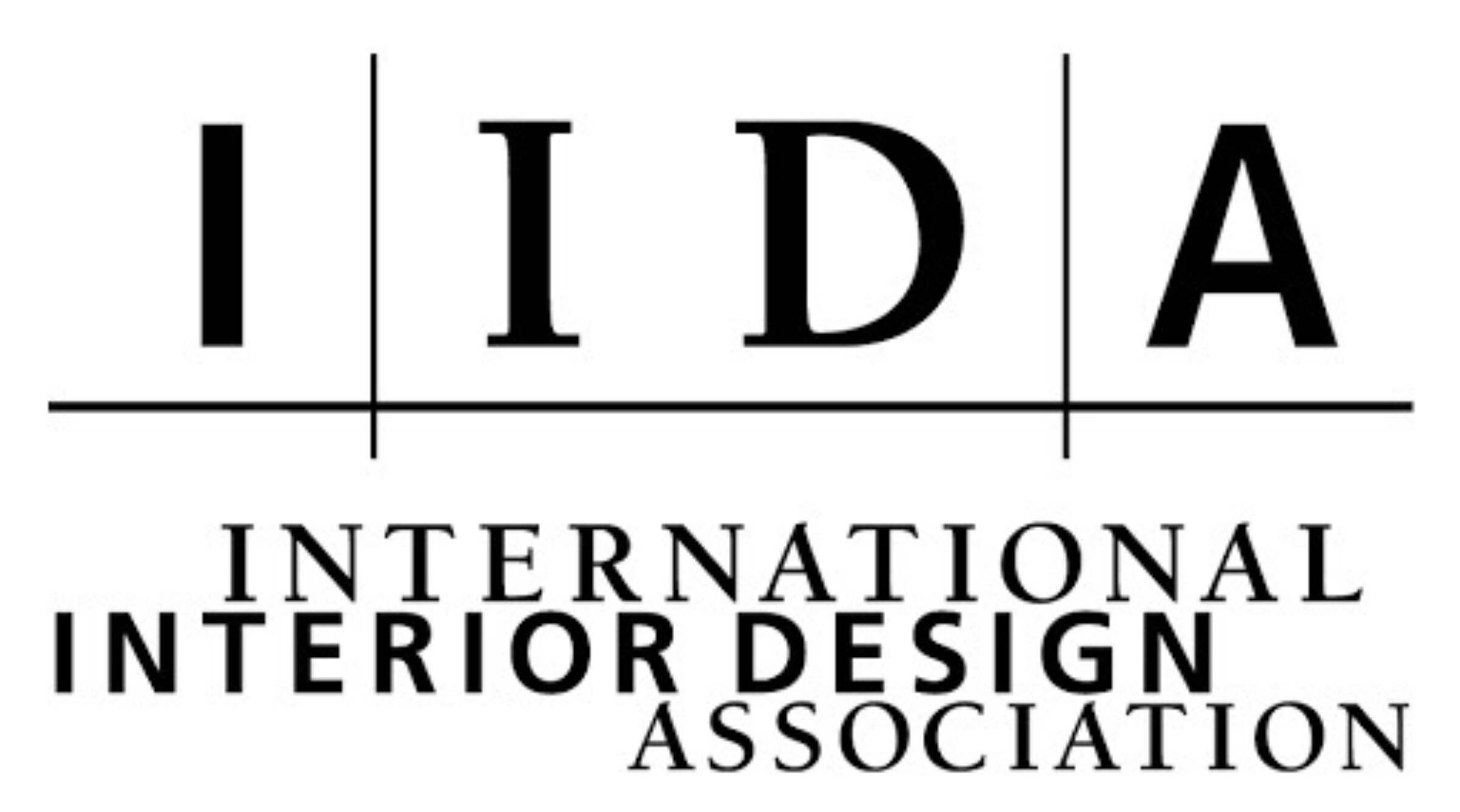 IDEA Award of Recognition, International Interior Design Association - 2020

Good Growth Award, Baton Rouge Growth Coalition - 2021
Like What You See?
As a complete design studio, Grace Hebert Curtis offers all of the services necessary to fulfill your vision.
Contact Us Today
Related Projects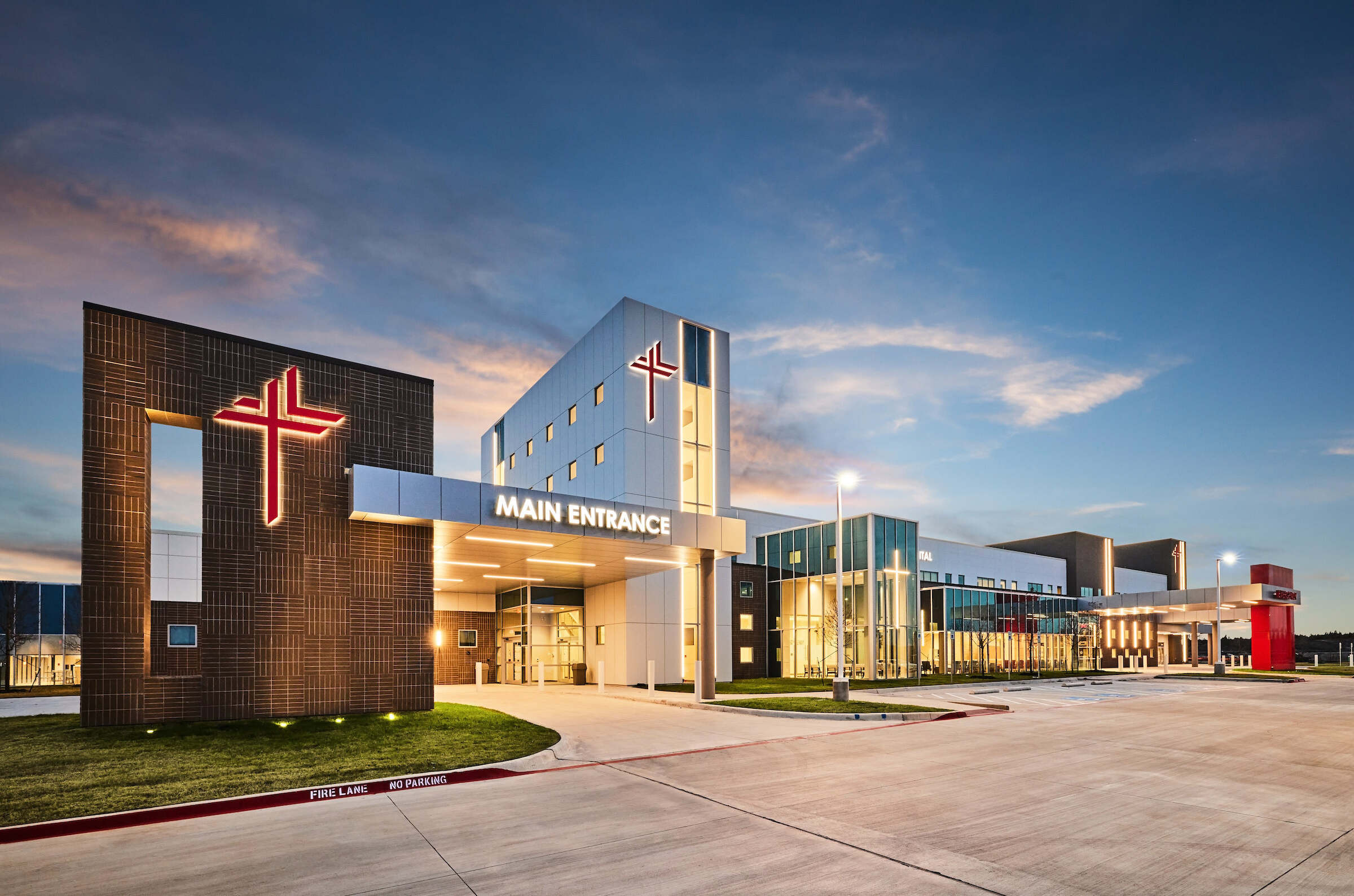 Trinity Regional Hospital Sachse
Ochsner Health Center - Gonzales