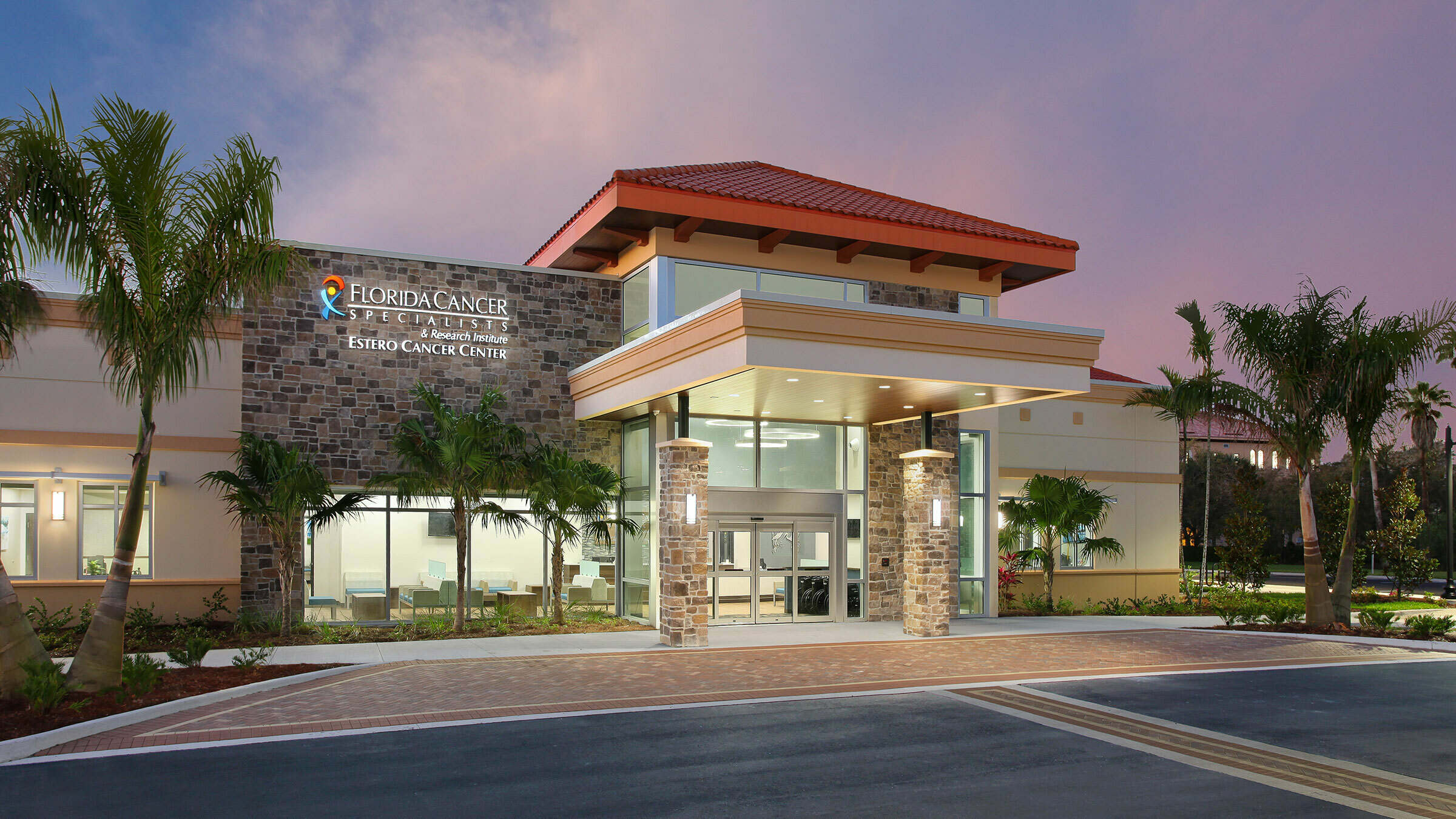 Florida Cancer Specialists - Estero
Florida Cancer Specialists' new Estero Cancer Center showcases Grace Hebert Curtis Architects' healthcare design experience and adaptability. Delivering the state-of-the-art center required not only a deep knowledge of oncology and patient care, but also the ability to reimagine and refresh the FCS' standard building components and finishes to fit local design codes.
Estero Cancer Center features three primary areas: imaging with PET/CT, a clinic with exam rooms, and a 38-chair infusion room. All spaces feature durable, long-lasting, easy-to-clean, medical-grade materials and finishes, including low-VOC paints, while still providing a comfortable and healing setting.
Developing the imaging and PET/CT area required GHC to work closely with equipment vendor Siemens and Radiation Physicist. As the PET/CT equipment is large, heavy and features delicate technology and components, the design team carefully planned a delivery route through the building to accommodate installation and potential removal and replacement. This required ample door and hallway widths and turning radii, adding to the building's spacious feel. The PET/CT area also features a Sky Factory ceiling, which mimics a skylight by displaying a digital image of trees and sky to help patients feel more at ease.
As the PET/CT equipment delivers a very high dose of radiation, the suite required significant additional radiation shielding. This includes thick lead-lined walls, the weight of the which required extra slab reinforcement. Access control to the PET/CT area further ensures patient and provider safety.
Developing the ideal programming and workflow for the clinic was also key to the project's success. Each area was sized for maximum efficiency and to reduce crowding. The phlebotomy area, lab and injection room are located adjacent to each other, reflective of how both patients and providers use and move through these critical spaces. A staff corridor along the back of the building offers separation between providers and patients.
The infusion spaces deliver both comfort for patients and optimal sightlines for staff members. The centrally located, nursing station and low walls allows a clear view to all infusion chairs. Oversized windows give patients a pleasing view of an adjacent pond and fountain.
In the lobby, GHC's interior design team opted for durable wood-look LVT flooring (including added cushioning for patient comfort) and a calming blue-gray color palette. Large windows throughout the building keep the interior bright, while the lobby in particular is supplemented by decorative light fixtures.
Considering that the building is located within a hurricane zone, GHC opted for concrete tilt-up construction structure with a 7-inch-thick concrete exterior wall, ensuring the building meets impact-resistance and wind-load requirements. Being in an area known for storms an extensive lightning protection system was installed to protect the building and equipment. Windows and doors utilize laminated glazing to meet impact resistant codes. As local building ordinances mandate a Mediterranean style, the GHC team subtly adapted FCS's modern corporate image without sacrificing branding.
Project Size: 16,000 sq. ft.
Location: Estero, FL
Completed: 2021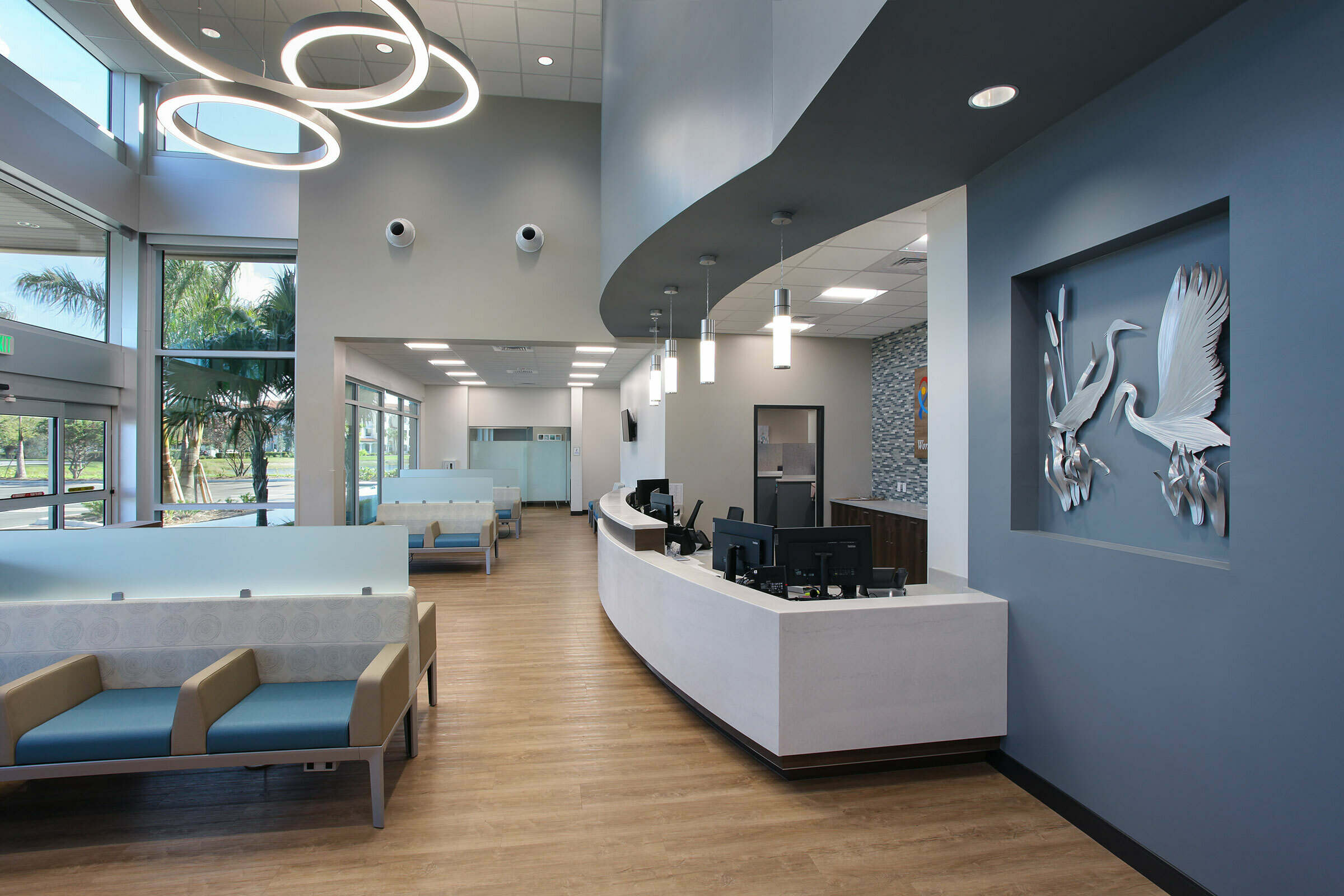 Signature Style Lobby
In keeping with FCS's signature style, patients are greeted by a two-story-volume stone entryway and waiting area, which also serves as the building's focal point. The space features a variety of patient seating and a reception area.
Healing Atmosphere
A light, relaxing color palette and warm wood finishes in the infusion suite create a comforting atmosphere. An exterior healing garden located off of the infusion room gives patients an open-air space to rest post-treatment.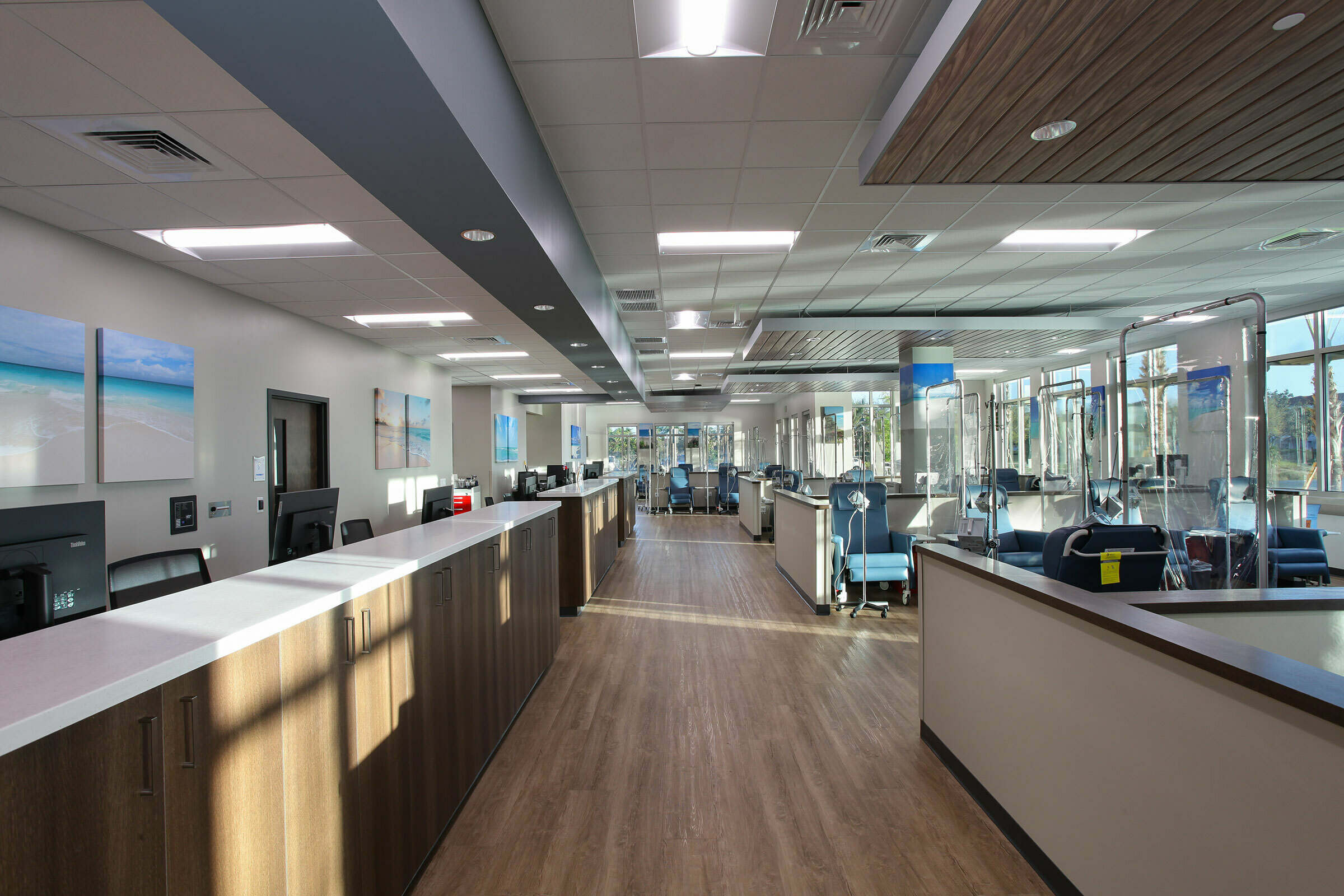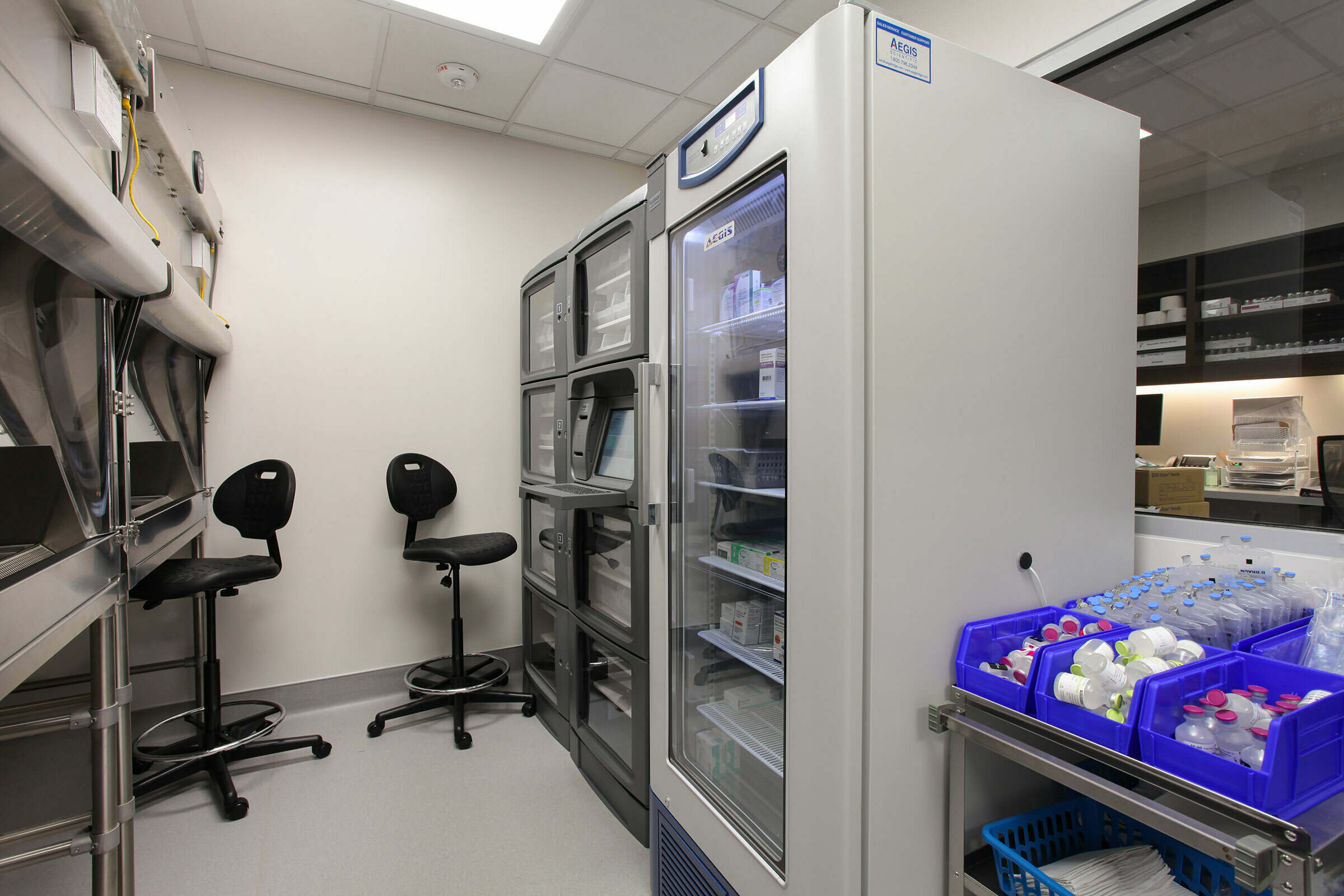 Specialized Pharmacy
The pharmacy design meets USP-800 clean room requirements and maximizes workflow while allowing direct access to the nurses' station. The negative-compounding room, where providers prepare chemotherapy treatments, meets strict ventilation and infection-control guidelines through specialized floor, wall and ceiling treatments. The Pharmacy is protected with access control technology and security cameras to protect patients.
Like What You See?
As a complete design studio, Grace Hebert Curtis offers all of the services necessary to fulfill your vision.
Contact Us Today
Related Projects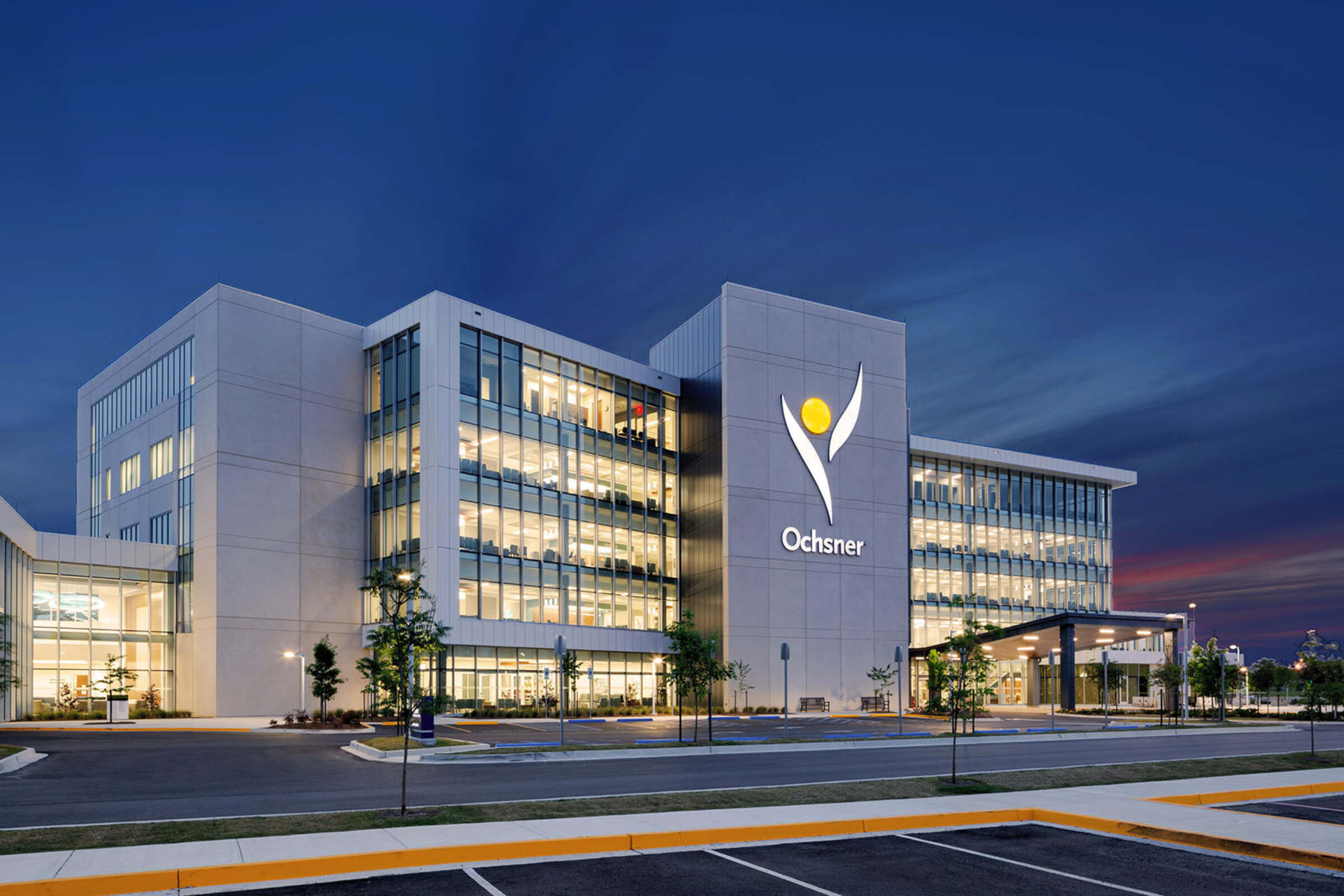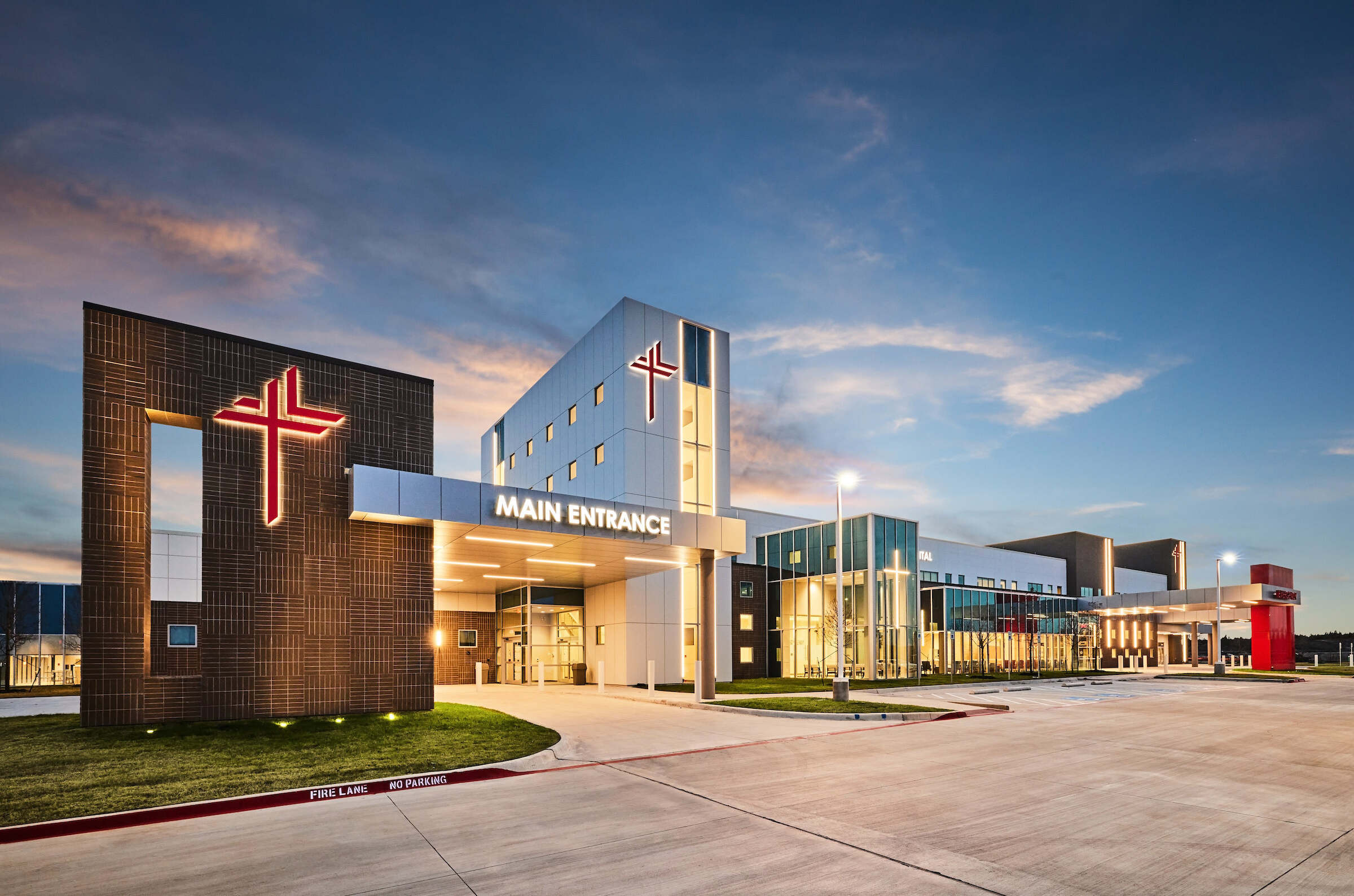 Trinity Regional Hospital Sachse