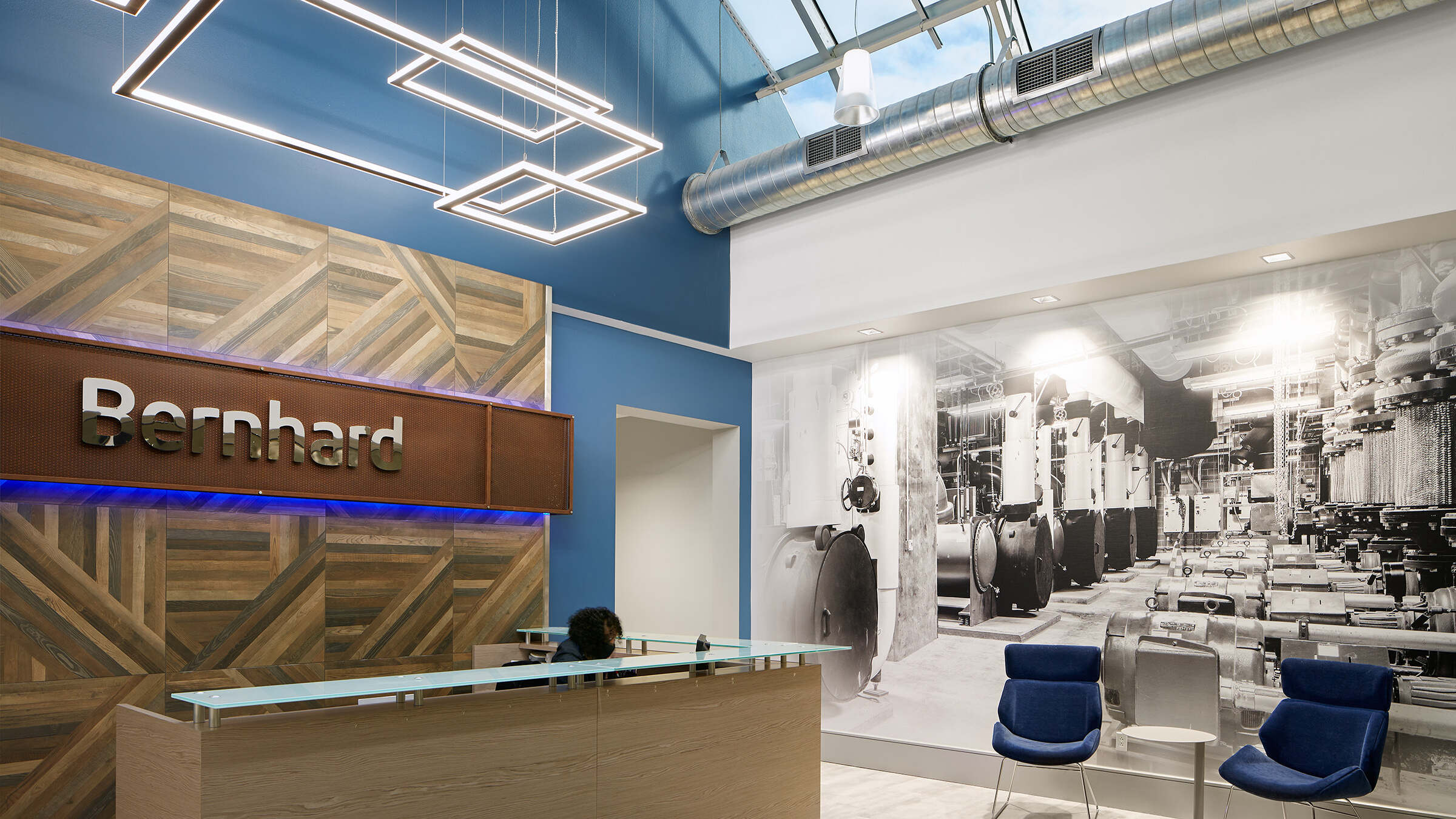 Bernhard MCC
In 2020, Grace Hebert Curtis Architects completed an extensive office space renovation to house the new corporate headquarters of Bernhard MCC, one of the nation's largest privately-owned engineering and contracting firms. The project expertly transformed an existing structure in Metairie, Louisiana, which had seen a wide variety of former tenants, into a strategically branded corporate office space.
The primary impetus for the project was to consolidate the majority of Bernhard's workforce into one location to promote collaboration. Relocating to the 36,000-square-foot space also gave the firm an opportunity to modernize with a more open office environment. With Bernhard serving as the project's general contractor and mechanical engineer as well, Grace Hebert Curtis Architects developed a client-tailored design that played on the strengths and unique features of the existing space while also reflecting Bernhard's brand and corporate character.
Prior to Bernhard's acquisition, the Metairie location at various times housed the University of Phoenix, a movie theater, and an athletic facility complete with a pool and basketball courts. Demolition was exhaustive as the multiple previous uses had resulted in layers of different finishes and hardening materials. Additionally, half of the space features a two-story volume, challenging the design team to introduce better flow and greater spatial cohesion. Grace Hebert Curtis Architects worked closely with Bernhard's senior leadership to find creative cost-conscious systems and materials solutions in response to design challenges.
The finished project exceeds the client's vision for their new headquarters. The lobby makes a bold first impression by showcasing Bernhard's branding, growth and successes via a historical photo and graphic timeline. Meanwhile, staff focused spaces create the central hub for teaming and collaborative sessions while providing opportunities for individual and small group meetings. Dynamic open workspaces allow employees the freedom to move and share ideas. The technology-forward conference rooms now set the standard for all Bernhard locations with top-of-the-line video conferencing capabilities and UV light sterilization devices to create a safer environment for employees. A new mezzanine maximizing unused vertical space allowed for separation of departments that require a quiet environment. Designed with large steel beams, the mezzanine required careful coordination with the state fire marshal and permitting office as well as strategic communication with the other building tenants.
Project Size: 36,000 square feet
Location: Metairie, Louisiana
Completed: 2021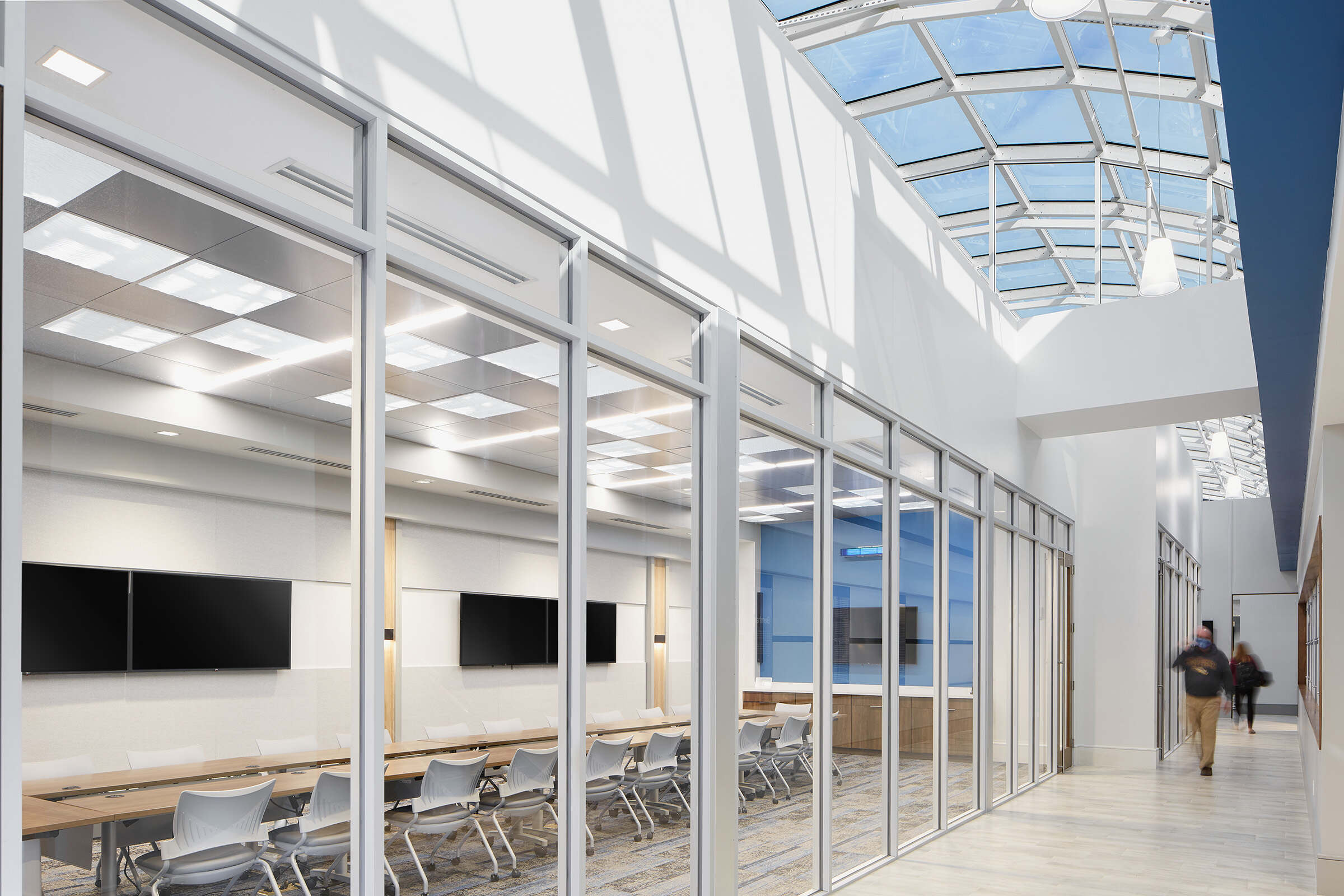 Transparency
By integrating a mix of perforated ceiling pipes, Grace Hebert Curtis Architects was able to retain the building's existing glass barrel vault roof while also moderating acoustics and harnessing the natural light.
Highlighting Their Expertise
It was important to Bernhard that the space also highlight the company's own mechanical engineering expertise. This was accomplished by incorporating ductwork throughout the open office environment, break room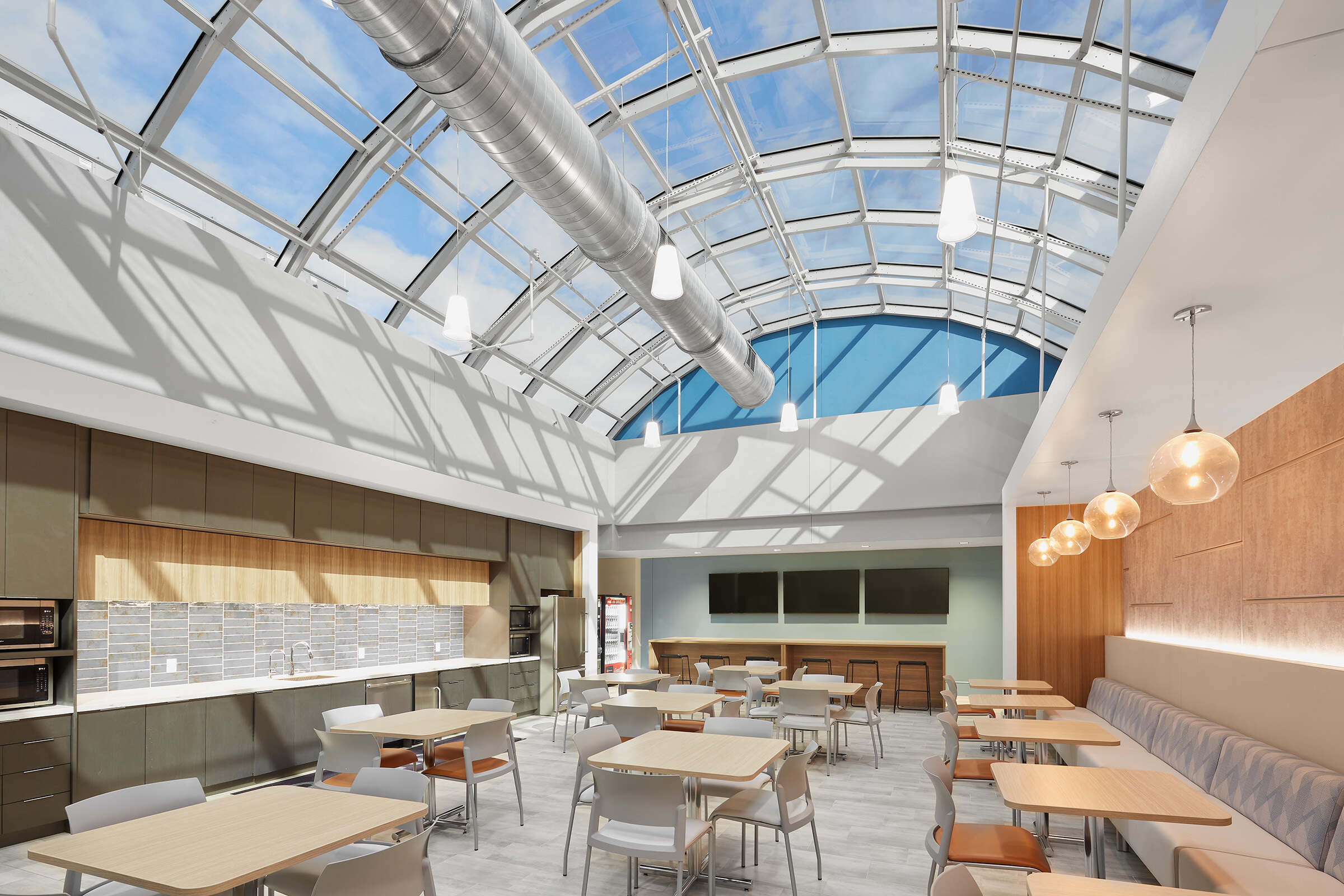 Like What You See?
As a complete design studio, Grace Hebert Curtis offers all of the services necessary to fulfill your vision.
Contact Us Today
Related Projects